Here's a video showing AILA's arms being teleoperated by an upper-body exoskeleton.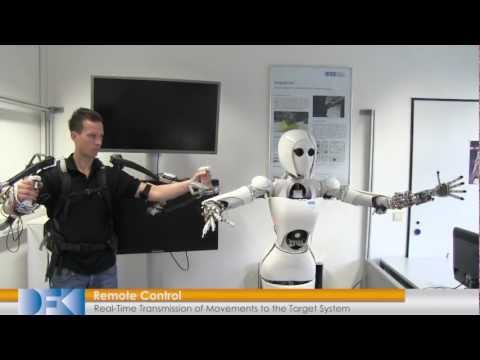 [source: DFKIvideo @ YouTube]
Robotma.com, an online store dedicated to hobby robot kits, is taking orders for a new entry-level bipedal robot called ISAMARO Mark II.  The first version of the robot cost a hefty 340,000 JPY (approximately $4,200 USD), but they've managed to cut the cost in half (to 168,000 JPY / $2,070 USD) by swapping the Kondo-brand servos used in its 19 joints.  They originally went with more powerful servos (19 kg/cm torque), which were replaced by those with a maximum torque of 13 kg/cm.  The kit, which was designed for use in competitions, will ship this December.
ISAMARO MarkII Entry Set
Height: approx. 350 mm
Weight: approx. 1.9 kg
Degrees of freedom: 19
Actuator: KRS-4031HV (× 19)
Optional: wireless device
Battery: Lithium-polymer
Control board: RCB-4HV
Video (ISAMARO Mk. I):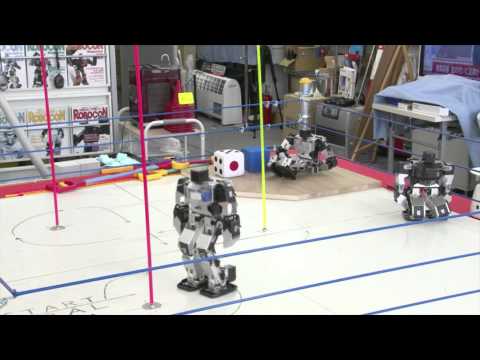 [source: ISAMARO (JP) & Robotma (JP)] via [My Navi News (JP)]
Here's a couple of videos of KAIST's HUBO 2 dancing, first a smooth original creation followed by one based on PSY's Gangnam Style.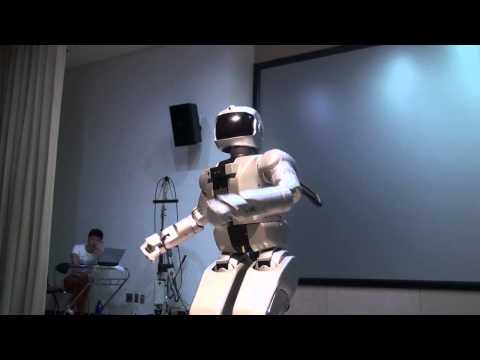 A figure model based on AIST's female android is being manufactured by WAVE Corporation, a model company which previously sold kits based on Honda's P2 and P3 humanoid robots.  The 1/12 scale model kit (14 cm tall) requires assembly, but the parts are already painted and feature easy snap-fit construction.  It is also fully posable, and comes with three heads for different expressions ("normal," "surprised," and "angry" ).  The kit won't be shipped until February of next year, but it can be pre-ordered online at stores like Ami Ami and Hobby Link Japan for around $28 USD (not including shipping).
Hopefully this kit will prove popular enough for WAVE that they'll make more based on the other HRP series robots.  I'd love to have them all! More photos follow after the break.
The iRobot vacuum cleaner got an 8-bit makeover at the SUPER iam8bit art exhibition, which featured hundreds of works inspired by retro video games. Artist Kelice Penney handmade the colorful covers based on the lowly Goomba (Super Mario Bros.), rock-spitting Octorok (The Legend of Zelda), and weaponized turtle shells (Super Mario Kart).
The Roomba's erratic movements seemed to suit the aimless game characters perfectly. Unfortunately the custom covers, which proved quite popular at the showing, aren't being mass-produced.
The iam8bit gallery, located on Sunset Boulevard, hosts group art exhibitions at their 4,500 square foot event space. The Roomba covers appeared at an event that took place late last year, but is making the rounds on the internet once again thanks to the video below.
[source: iam8bit Productions] via [IT Media (JP)]
developed & published by Capcom / 2011.01.11
1 player / 1 save slot / Nintendo DS, iOS

Capcom gets its fair share of criticism for milking its franchises to death, so when it takes a chance on something different it's usually worth a look.  Ghost Trick: Phantom Detective certainly qualifies: it's a totally original IP that puts a unique spin on the adventure genre, which has sorely needed some innovative ideas.
The player takes on the role of a ghost who's spirit can interact with nearby objects, like a poltergeist playing tricks on unsuspecting victims.  You'll have to use whatever you can, including your wits, to find out who you are and why you died.  The plot and characters are a big part of what makes this game special, so any further details would only ruin the fun.
Here's a fantastic video about the iCub project and its goals relating to artificial intelligence.
via iCub @ Twitter
developed by Nintendo & Monolith Soft, published by Nintendo
1 player / 2 save slots / Nintendo Wii / 2011.11.20
Nintendo returns to the Legend of Zelda series once again with Skyward Sword, and like every second game in the series this one does away with the usual antagonist and setting.  Nintendo has managed to create a fairly unique world for the game, with childhood friends Link and Zelda living in the floating island town called Skyloft.  The game begins as Link is about to compete in an annual competition to see who will become the town's next knight.
Thankfully there are fewer tutorials to work through than in the opening hours of Twilight Princess, so it doesn't take long for the real adventure to get started.  And unlike previous Zelda games, players have access to frequent save points in each area that should help make the game more manageable.