I wrote an article about Murata's robotic walking aid which was published at Gizmag. Read it here.
I wrote an article about the Makerbot Replicator 2 3D printer which was published at Gizmag. Read it here.
I wrote an article about Aisoy Robotics' Aisoy1 II which was published on Gizmag, you can read it here.
Here's a few videos dating back several years of miniature humanoid robots I had never seen before. These two robots, Xbot and NAIS1, were developed by Nuzoo Robotics in Italy.  It's a design and engineering company that uses robotics to enhance products and services. According to their website, they're both entertainment robots. The yellow NAIS1 stands 43 cm tall, weighs 3.1 kg, and has a total of 31 degrees of freedom. Both of these sort of reminded me of the Morph humanoids.  Check it out: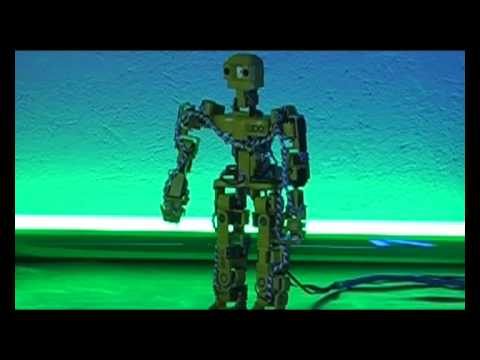 A cute project from the University of Manitoba's Autonomous Agents Laboratory: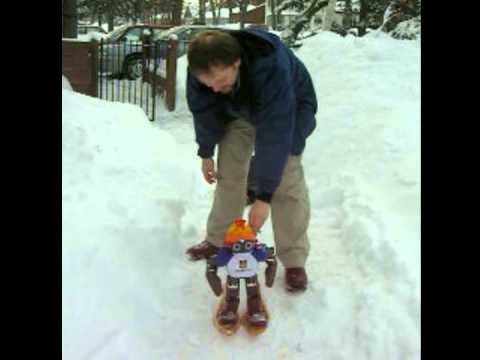 [source: Chris I-B @ YouTube]
developed & published by Nintendo / Feb. 1997
1-2 players / 2 save slots / Nintendo GameBoy, 3DS eShop (26.07.2012)
Mole Mania is a clever and addictive puzzle game that was originally created for the black and white GameBoy.  A wily farmer named Jinbe kidnaps Muddy Mole's wife and seven children, so Muddy sets off to reclaim them through mazes filled with devious puzzle rooms.  Considering Mole Mania was designed by legendary Nintendo game creator Shigeru Miyamoto it's a rather obscure title, but one that's been given a second shot with its release as a downloadable game on the Nintendo 3DS eShop.
RoboBuilder's new TeenSize robot designed for RoboCup, RQ-TITAN, does a dance in this new video.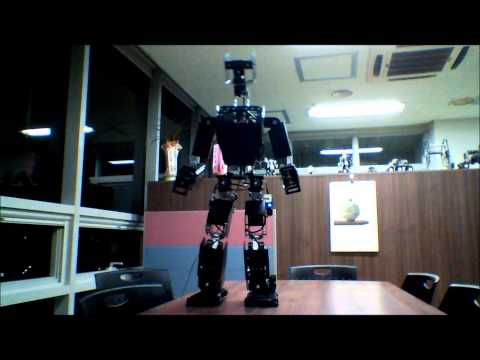 [source: RBMFile @ YouTube]
You may have noticed that the number of posts has dropped dramatically in the last few months, and if you've been following my updates on Facebook and Twitter than you already know why.  I've become a contributor to Gizmag, and starting today I will also be contributing to the IEEE Spectrum.  These are two great publications with a much larger readership than I was able to build over the years here at Plastic Pals, and I am proud to write for them.  Robot news coverage from many mainstream outlets is still far from satisfactory, and I hope that my contributions at these two sites will help raise the bar.
Gizmag is a very popular site that covers not just robots but all sorts of interesting developments from around the world with a focus on science and technology.  IEEE's Automaton blog is – simply put – one of (if not) the most respected online sources of robotics news – you probably already visit it regularly!  After writing about robots all by my lonesome over the years, it's nice to be part of two great teams.
However, this does not mean that I will be closing down Plastic Pals.  The robot database, which covers more than 500 robots, took me a long time to research and write – and it would be a shame to delete it from the internet.  Moving forward, however, I cannot write multiple articles about a robot across multiple sites.  That's why I'm planning on updating the robot database with links to my articles on Gizmag and IEEE Spectrum.  Soon you'll find robots in the database that have been color-coded to signify the link takes you to another site (orange for Gizmag and green for IEEE Spectrum).
So what kind of posts will get written for Plastic Pals moving forward?  Well, to be honest there won't be that many. There are still quite a few older projects I would like to add to the site, but these will only be written as my free time allows.  That said, I have recently acquired an RQ-HUNO hobby robot kit from RoboBuilder, and plan to get into 3D printing in the next few months, and my projects – both robot and 3D print related – will be showcased on this site.  I'm not targeting a specific number of posts, but hopefully I will have time to do at least one major post a month.  You can also keep up to date with my latest writings by following me on Facebook and Twitter.
I hope you'll follow my future articles on Gizmag and IEEE Spectrum.  Plastic Pals will be doing a give-away where you'll have the chance to win a figure based on AIST's HRP-4C humanoid – so you'll want to watch for that on my Facebook and Twitter.  This isn't the end, but I want to thank you all for reading and supporting Plastic Pals over the years.